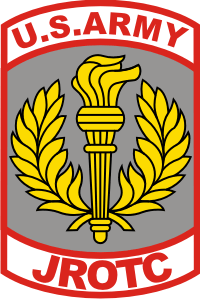 CADET CHAIN OF COMMAND

CADET LTC – BATTALION COMMANDER: LTC Altum
CADET MAJ – EXECUTIVE OFFICER: MAJ Wachtel
CADET CSM - COMMAND SERGEANT MAJOR: CSM Kuykendall

CADET CPT – BATTALION S1 (PERSONNEL): SGT Watson
CADET CPT – BATTALION S2 (SECURITY/WEATHER): 1SG Wieber
CADET MAJ – BATTALION S3 (OPERATIONS): SGT Hedge
CADET CPT - BATTALION S4 (LOGISTICS): CPL Dobbs
CADET CPT – BATTALION S5 (PUBLIC AFFAIRS): SGT Reyes

COMPETITION TEAMS

COLOR GUARD - CADET MAJ Samantha McDaniel
DRILL TEAM - CADET COL Hayden Sinnamon
EXHIBITION TEAM - CADET 1SG Christina Casey
RIFLE TEAM - CADET CPT Autumn Northern
ACADEMIC/LEADERSHIP TEAM - CADET 1SG Christina Casey
RAIDER TEAM- CADET CPT Alex Day
The MISSION of JROTC is to motivate young people to be better citizens. The program provides Cadets with motivation and skills to remain drug free, graduate from high school, and become successful citizens. This program also instills in high school students the values of loyalty, duty, respect, selfless-service, honor, integrity and personal courage.

Participation in high school JROTC does not obligate the student to any military service. However, if the student is interested in the military service they may qualify for advance placement in college ROTC programs or in the active or reserve components of the Armed Forces. Cadets may be authorized enlistment after high school as a PFC (E-3) if they complete three or more years in JROTC.

JROTC instruction minimizes the use of lecture. Instruction hinges on performance-oriented training such as student-centered interactive techniques, debates, small-group discussion, role playing, self-paced modules, and teaching strategies that emphasize student participation in the classroom. The JROTC curriculum is comprised of:

1. Citizenship in Action (Introduction to JROTC)
2. Leadership Theory and Application
3. Foundations for Success
4. Wellness, Fitness, and First Aid
5. Geography, Map Skills, and Environmental Awareness
6. Citizenship in American History and Government 7. Rifle Marksmanship and Range Safety
JROTC instruction is presented using the four- phase lesson plan with the instructor facilitating inquiry, research, and application of knowledge gained. The four-phase lesson plan is comprised of the following progressive stages, ideal for the 90 minute block schedule:

I. Inquire: Share and communicate what students know about the subject.
II. Gather: Investigate, research, and discover new information on the subject.
III. Process: Practice what is learned through hands-on activities such as calculations, presentations, speeches, and drill.
IV. Apply: Transfer what is learned to real life through practical application.

The JROTC program is structured to instill the five competencies in each student. After each class a JROTC student will complete and/or demonstrate at least one of the following competencies:

1. Make a Decision
2. Perform a Skill
3. Perform a Service
4. Solve a Problem
5. Create a Product

Daily demonstration of the competencies will facilitate each student to integrate the following JROTC Core Abilities:

1. Build capacity for life-long learning
2. Communicate using verbal, non-verbal, visual, and written techniques
3. Take responsibility for actions and choices
4. Do your share as a good citizen in the school, community, country, and the world
5. Treat yourself and others with respect
6. Apply critical thinking techniques

* JROTC functions like a regular course and is conducted within normal school hours.

* Students may take up to eight semesters of JROTC.

* Students that complete at least two (2) semesters of JROTC can substitute for lifetime wellness credit. Those that complete three (3) semesters of JROTC can substitute for financial planning credit.

Extracurricular Activities: Color Guard, Drill Team, Raider Team, Rifle Team and Academic/Leadership Team. Whitewater Rafting (Ocoee, Tennessee) in the Fall and Spring Semesters.

* Summer Training: Training opportunities are available for students to participate in the JROTC Cadet Leadership Camp (JCLC) at Wendell Ford Regional Training Center in Greeneville, KY.

Questions or comments regarding Grainger High School JROTC can be directed to the Army Instructors at (865) 828-4214.